Post by dayadjocen on May 4, 2019 11:49:56 GMT -5
Hello all,
So this may be a flooded market, especially with recently released and upcoming runs from other folks, but I wanted to open a thread to gauge interest in what I hope to be a truly awe-inspiring and amazing Hero hilt from Return of the Jedi.
As many of you know,
brrogers
and I are working on a design of the MoM (Cave Build) Hero, taking into consideration many of the challenges FX and static enthusiasts alike face when considering the various replicas out there.
We are leaving no stone unturned and have been pouring over the Archive photos of the aluminum MoM prop like mad over the past few weeks and I am building a 3D model of this designed to be machinable.
You can find the model development thread
HERE
.
Now to be clear, the model itself will be
FREE
to anyone who wants it and I will post it on Thingiverse when it is complete. For personal non-commercial use, it is going to be for the world to have, look at, print on their home 3D printers, or take to a local machinist to have fabricated as a personal saber.
For commercial use, there will be licensing and royalty constraints
.
As
brrogers
and I have been developing this model we have been receiving a lot of inquiries as to whether we'd be performing a run for sale based on this model, so I am officially creating a run-interest thread to get a feel for how badly this is wanted and whether
brrogers
and I should continue discussions with machinist outfits to create a run of physical hilts when the model is complete.
He and I have already put feelers out and are starting such discussions with machining firms to discuss preliminary items and particulars.
This is your chance to tell us how big this could be.
HOW YOU EXPRESS INTEREST:
The model contains multiple variants of components and has canon and idealized dimensions to choose from. So to properly gauge interest, we need to know what sort of package or bits you want.
The high level options are:
Canon vs Idealized
-
This will primarily change the pommel gear and the grenade section. The canon package will include uneven ribs and some never-before-seen details in the pommel gear that to my knowledge NO other replica hilt has.
The idealized version will have even ribs and an "ideal" pommel gear, though it will still be offset and clocked from the control box.
Blade width and thickness
-
This will determine which face plates you would be interested in. All packages would include a static faceplate for FX builds when the blade is not in.
The model supports: 7/8", 1" thin-walled, and 1" thick-walled blades. (Yes, we've designed the hilt to support ALL three with just different face plates and a couple of adapter rings).
Windvane material
Options here will be:
Copper
Brass (because some feel it was actually oxidized brass)
7075 aluminum (to paint for that genuine painted look)
Pick your poison.
Standard features included in every hilt
The model is being designed such that every hilt will include a steel reinforced windvane regardless of material for dueling strength and all aluminum parts would be machined from 7075 aluminum, with the grenade section black nitride or anodized (we have not gotten to coatings yet).
All threads of all components are standard ISO metric sets (no proprietary threading here, folks!).
Here are a couple teaser photos of what the options might look like (the model is still being built so these are subject to change):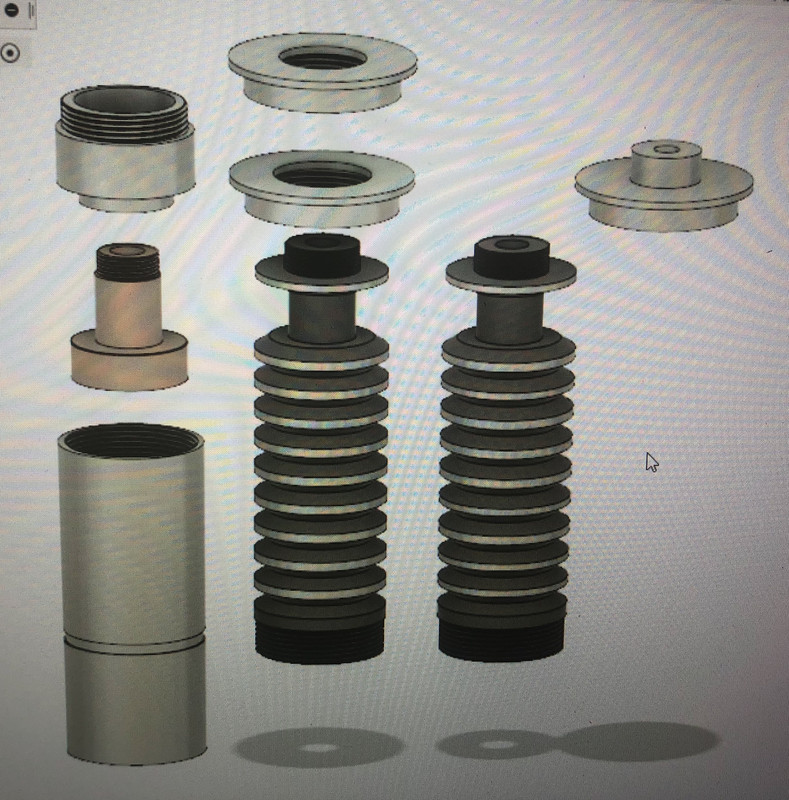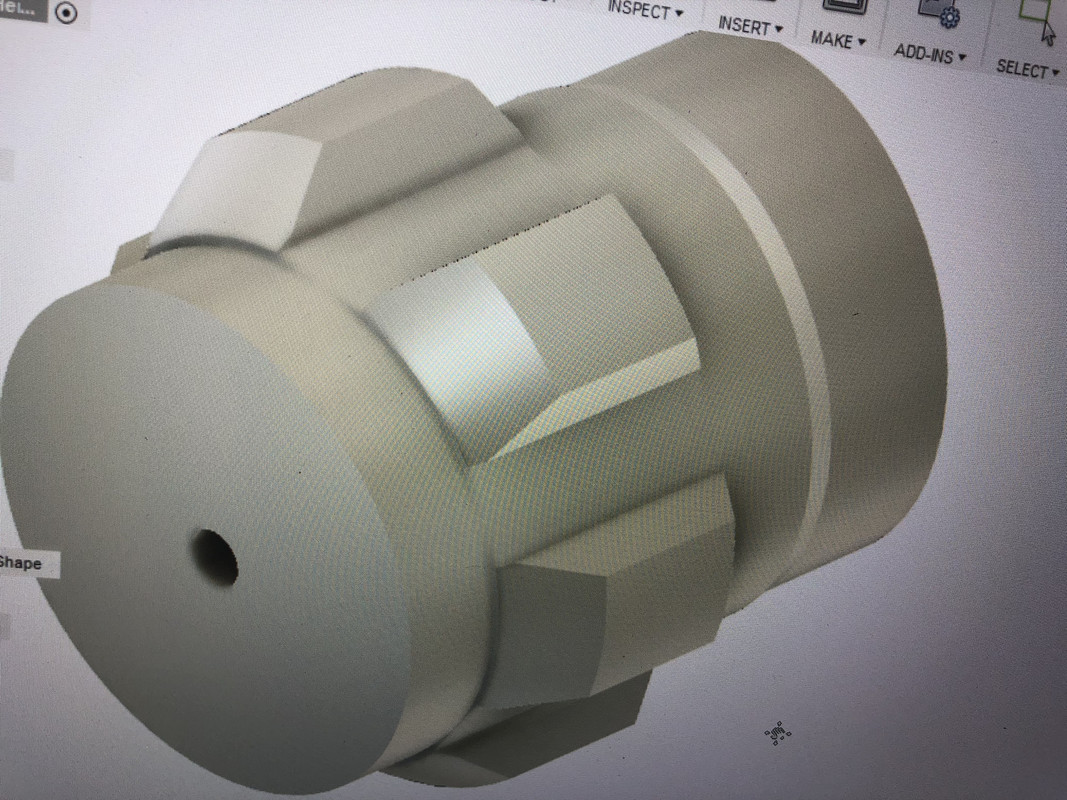 Please comment below with if you are interested, how many you'd want and the configurations for each. This will help

brrogers

and I determine if this run will become a reality or not.
Do not send money as none is being collected at this time. This is ONLY an interest thread at this time with no commitment to make the run yet, and there is no commitment on your part to purchase. We are trying to gauge the market.
We do not have a price point yet and that will be posted once we've received quotes from machinist companies.
Thanks and May the Fourth Be With You!
Sincerely,
Dayad Jocen Sabers and BR Rogers
Current Interest Roster:
Total Interest: 41
1.) ARKM - Idealized, Copper, 1"
2.) jedi3251 - Canon, Copper, 7/8"
3.) snormeepoo - Canon, Copper, 1"
4.) forcellama, Canon, Copper, 1"
5.) Ben Solo - Canon, Aluminum, 7/8"
6.) Mr. Mister Missed Her Rogue 5 - Canon, Aluminum, 1"
7.) Rogue Five - Canon, Aluminum, 1"
8.) sa22c - Canon, Copper, 7/8"
9.) goodie2325 - Canon, Aluminum, 7/8" (+1")
10.) threadsketch - Canon, Aluminum, 1"
11.) darthbrooks - Canon, Aluminum, 1"
12.) treansorturi - Canon, Aluminum, 7/8" (+1")
13.) Davy Jones - Canon, Copper, 1"
14.) masterjedi - Canon, Copper (+Aluminum), 1"
15.) obiflex - Canon, Aluminum, 7/8"
16.) michael93 - Canon, Copper (+Aluminum), 7/8" (+1"), (two hilts if ISYHCANL is offered)
17.) saiyancookie - Canon, Copper, 1"
19.) eli - all the things (one with all the fixins)
19.) jon3657 - Canon, Copper, 1"
20.) britwalker - Canon, Copper, 1"
21.) darthbader - Canon, Copper, 1"
22.) sosdd - Canon, Copper, 1"
23.) agentd5417 - Canon, Brass, All emitter sizes
24.) maverickhunter - Canon, Copper (+Aluminum), 1" (but all emitters if offered)
25.) djmehs - Canon, Copper, 1"
26.) r2p2 - Canon, Copper, 7/8" (+1")
27.) masefield - Canon, Copper, 1" (+7/8")
28.) mvtfrmchi - Canon, Copper, 1"
29.) jorged123 - Canon, Aluminum, 1" (+7/8", all)
30.) projectno253 - Canon, Copper, 1"
31.) narshadda - Canon, Copper, 7/8" (+1")
32.) inigou - Canon, Copper 1"
33.) nenshinobi - Canon, Copper, 7/8"
34.) smackteo - Canon, Copper, 1"
35.) smurphin89 - Canon, Copper, 7/8"
36.) jedig - Canon, Copper, 1"
37.) valheru84 - Canon, Copper, 1" (+7/8")
38.) bombarta - Canon, Copper, 1"
39.) adraco4 - Canon, Copper, 1"
40.) jediaryeh - Canon, Copper, 1" (full deluxe)
41.) diagla2 - Canon, Copper, 1" (+7/8")