Post by Corbin Das on Dec 10, 2015 1:22:18 GMT -5
While this saber is already (more or less) made, once I finish the Killer Penny, my attention will turn to finishing this ancient weapon. It's intended to be a non-functional relic that was discovered in a long forgotten tomb. I never got around to upgrading it to the degree I had hoped. Eventually, I'll probably make an "as first built" version too. This one though, it's heavily weathered and will probably become even more so later. Originally, it was going to be a slightly battle worn, but still in decent shape, lightsaber. Fate had other plans however....
Right now, I have electronics in it that is supposed to simulate an arc welder for model railroad villages (like a garage or something). I hooked up a pair of vibration motors to each of the LEDs (in parallel). One is high speed and small and the other is large, slower and "clunky" feeling. They randomly go off for different durations and intensities, along with the hi-intensity LEDs. It makes the saber feel like it's TRYING to start up, but just can't quite do it. LOL
Here's what it currently looks like. Not very weathered yet: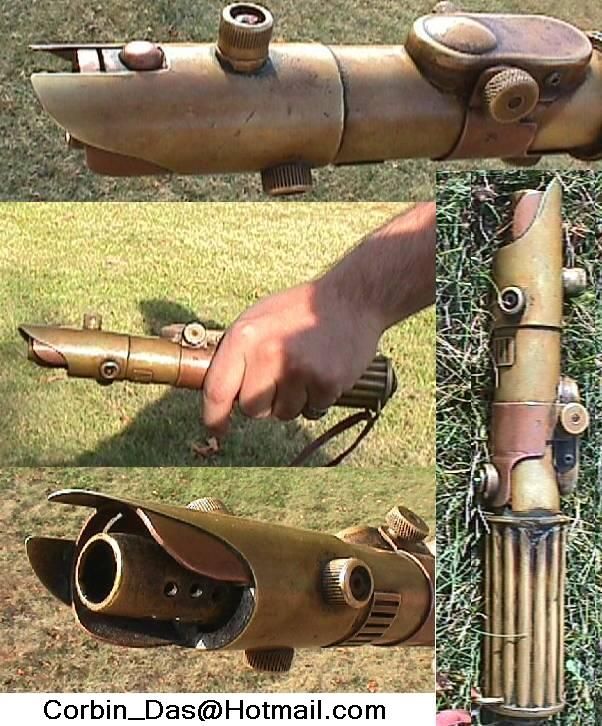 See that "melted" point on the grip section? If not for it, the Killer Penny may never have been built. Long story, but I had got some saber components from a gentleman in New Zealand. The grip section being among them.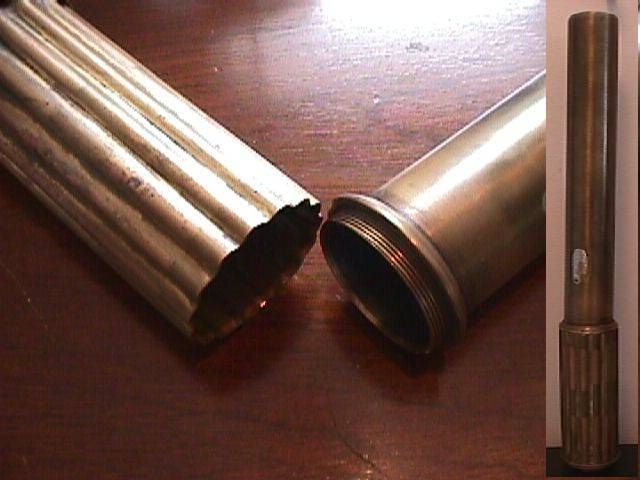 It came from an old blowtorch: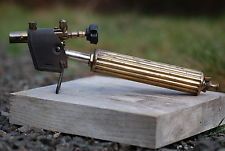 Here are some other parts: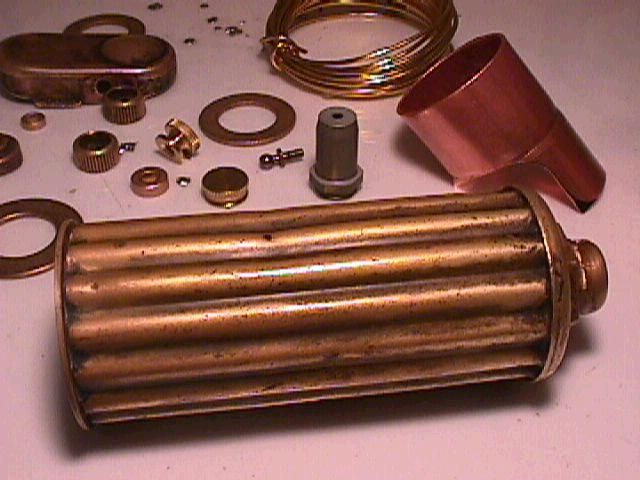 I had already pieced together the front half, more or less, using some sink tubing, greeblies and such. With it just sitting on the grip section, this is what I was going for. Notice no on/off switch yet on it. Hadn't decided on location yet.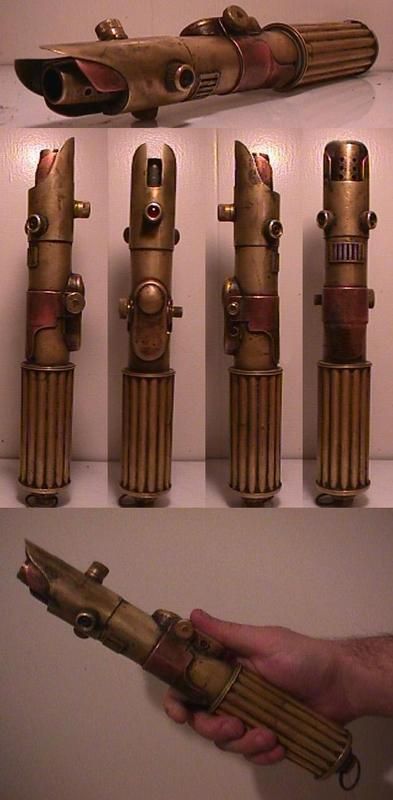 A section of brass tubing with a screw on collar at one end also came with the grip. The tubing was dented and battered, but the threaded collar was what I was really looking at. I wanted the female section brazed into the open end of the fluted grip piece, so I sought out someone in the local yellow pages. Meeting with him, he agreed that it should be "a piece of cake" and said I could pick it up in a couple days.
Well, apparently he either didn't know what he was doing or was too lazy to switch welding heads from the cutting torch attachment. The result? He blew holes through the grip ALL THE WAY AROUND its circumference. It ruined the piece, as far as I was concerned. I wasn't very happy. These grip sections aren't easy to find. Anyway, after looking at it, I requested that he fill the holes up as best he could and I would try grinding, cutting and dremilling the fluted contours back onto it. I wasn't sure if it would work, so in the mean time, I contacted the gentleman I had originally bought the piece from and explained the situation. He said that if he ran across another fluted grip section, he would definitely let me know. Chances were slim, but still.
A couple areas were beyond repair, so I made them into "meltdown" details by adding silver solder and sculpting them a bit. Here is a "before picture. This is what I had to work with once he filled in the circumference: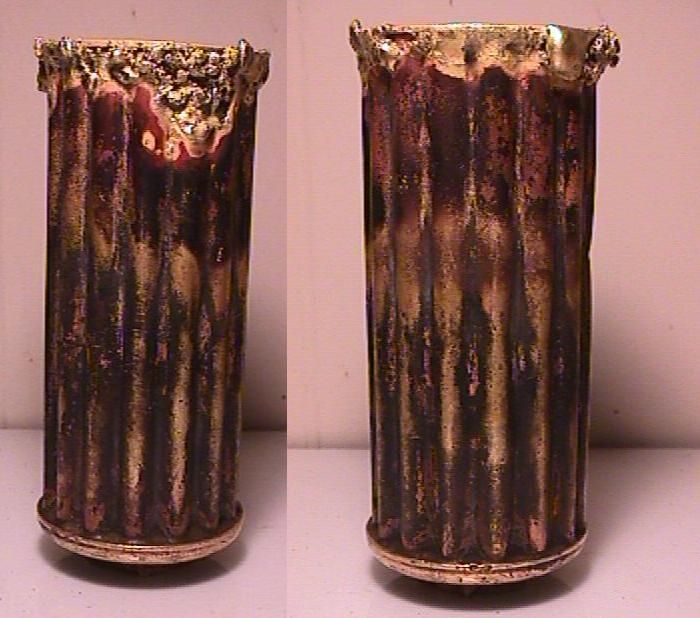 After more work than I want to think about, it was finally salvaged enough to use. Unless I cut it shorter, it would have to have the meltdown sections, but at least it wasn't a complete loss. So instead of having a newer looking saber with a tiny bit of battle wear, I was going to have an extremely damaged ancient relic. Sigh. LOL
So, after messing with it more, it became my first custom saber (beyond Maglites and grip tape). About 3 or 4 months after I completed the saber (for the time being), the guy from New Zealand emailed me. He had found another grip section. I bought it and, for a little while, considered replacing the "ruined" grip with it. If not for my VERY PATIENT and SAINTLY Wife (LOL), I probably WOULD have replaced it and just scrapped the original grip. But she took a liking to the ancient saber's "personality", as she put it. "Nobody else will have one like it, and even if they TRIED to copy it, the meltdown section would require them to blast holes through their saber, so they'd probably never try.....You should keep it like that." So I did.

With the extra grip, I decided to try and make what I had (at the time) called the "Legacy" saber. It was originally going to be stainless steel and damascus. The brass grip section I now possessed changed that a bit, and the Killer Penny was born. LOL
Anyway, enough back story (too late, right?).
Some of the design elements of the Malius saber were later shared with the Penny, if you look. The oval boxes on both were taken from old tabletop steam engine models. They were chrome plated, so that had to be removed. Of course, the grip sections are the same, with the oval box attached on the Penny, but moved forward on the Malius. The open "forked" emitter shroud with one or more "bridges" are similar too. Of course, the copper and brass elements are definitely hard to miss. All these things helped me to show a "lineage" or "evolution" between the sabers. They were (in the back story) made by the same person, though years apart. The Malius was designed more as a single handed weapon, though one could employ two hands, if needed. Whereas the Penny (or Malius' Legacy, if you want to be technical) is longer and designed for a two handed hold.
So, as I'm currently waiting to get the Penny back from the laser engraver, I had some time available to brainstorm a bit on how I want this saber upgraded. One idea was to make it into a proto saber, with the umbilical cord going to a battery pack on the belt. Another was to have a model train smoke emitter (in the emitter probably), so when you tried to start it, you'd smell "burning wires" and see a trickle of smoke (to say nothing of it randomly bucking around).
This is where I'm hoping you all can share some ideas. Especially in regards to the section under the grip, when it's unscrewed. What should you see there? Should there be lots of runes and other writings? What would the inside of a saber that had a meltdown look like? Should I employ a soundboard to make sparky, zapping noises when you shake it or whack the side of the hilt? Should there be a lit crystal remnant, cracked and broken?
ALL THOUGHTS AND SUGGESTIONS WELCOME!!
Here's a "blueprint" I made up the other day. You can take a copy and draw on it, if you like. Please feel free to post drawings, ideas or pictures of what you're thinking. While the Penny will be completed FIRST, I'd like to get the ball rolling with ideas on this one.
Thanks