Post by defcon4 on Jun 7, 2014 15:21:44 GMT -5


6/7/2014 (updated 10/16/2019)
First, I want to thank everyone for their guidance and positive encouragement in taking the saberbag
idea to the next level. I could not have done it if not for you guys.
Bag samples, Pricing, Material charts are listed below.
This will give everyone a visual representation of how color combinations may look together.
Hopefully, the material charts will make it easy to put together a bag of your choosing.
The Saberbag consists of a heavy outer bag material and a soft fleece inner lining to protect your saber from scratches.
The Saber bag is closed using a paracord drawstring and bead.



Bag Color/Material updated 1/16/2016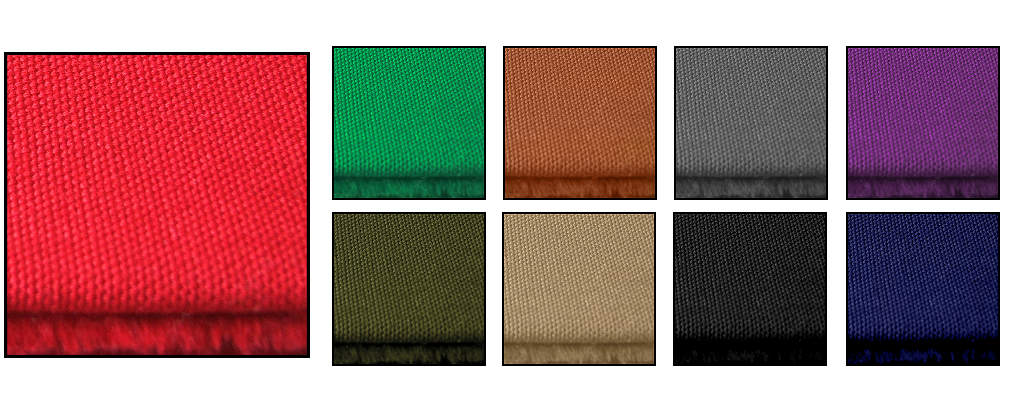 _________________________________________________________________________________________________________

___________________________________________________________________________________________________________________________________

Crest/Logo Samples

VINYL COLORS FOR LOGOS/CREST

How to proceed:
PM me here at the IRA or email at
[email protected]
with the following information.
SUBJECT LINE:
SaberBags
Message should include:
•Screen name(If using email)
•Bag material and color
•Fleece Lining color
•Drawstring color
• Logo design and color
Stripe Color If ordering a Deluxe Version
Special notes


Concerning: size adjustment, custom logo, special material request(Leather) or color combinations.
__________________________________________________________________________________
STANDARD SABER BAG SIZE 15 X 4 1/2 INCHES

Pricing and Payment:
SaberBag with Crest/Logo $15
SaberBag with Long Stripe/Logo $18
Deluxe SaberBag w/ Crest/Logo and lower stripes $20
Paypal only. No payment is required up front. When your Saberbag is nearing completion I will notify
you and you can make payment at that time. Payment can be sent as 'Personal' or Payment for 'Goods'
whichever you prefer.
Shipping and Delivery
Shipping in the U.S. will be $3
International shipping is also available. Simply request a shipping quote for your area.
I will try and have orders processed and completed within a few days of the order being placed.
Specialty logo's or colors may be a bit longer. I ship on a daily basis with my Ebay business, So I
will get Saberbags in the Mail as quickly as they are completed.
I'll notify you with the shiping date and a Confirmation/tracking number from the Postal service.
Personal info about me:
I'm 44 years old and reside in Anniston Alabama.
I've spent most of my adult life building things and working with my hands.
I think, like many of you, being creative and buiding things is in my blood.
This is what drew me to the hobby of saber Building. I was looking for a Traffic Wand. This was to be
use to signal drivers during Short track racing. When I could not find one that was durable or bright
enough, I decided to research and build one for myself. Thats when I found the world of Custom
lightsabers.
I'm new to the boards, but I've been selling merchandise for quite a while.
I have an Ebay store and have been a Powerseller there for the last 10 years..with well over 10,000
transactions/Feedbacks. I say this to point out that I am Anchored and can always been found there.
On Ebay my customers are always first, I guarantee everything no questions asked.
For you guys I will go above and beyond.
My Ebay Store
stores.ebay.com/defconbird
Thank you for your consideration.
Def
BUILD LOG Updated: 8/9/2014

Whitmers -1 Bag Faux Leather black. Bag Completed and Shipped.

johannes -3 Bags faux Leather Black, Faux Leather Brown, Navy Blue.Completed, Shipped

Wildcard -1 Bag Black. (Adjusted size.) Bag Completed!SaberBag Completed and Shipped

Daddy Solo -2 Bags Faux Black Leather, Navy Blue. SaberBags Completed, Shipped

Nico Diath -1 Bag Faux Leather Brown. Bag Completed, Shipped

wolf10100 - 2 Bags Black, Plush Charcoal. Bags cut out and will be sewn Monday. Shipped

TryWyr - 1 Bag faux Leather Black. Bag Cutout and will be sewn today. Shipped

Perry - 2 bags Faux Leather Black, Navy. Bags cutout and will be sewn today. Shipped

Hake Felflame - 2 Bags Red, Faux Leather Black. Up next. Shipped

Lordzen - 2 Bags Plush Charcoal, Completed Shipped 6/18/14

SaberConcepts - 1 Bag Navy, Tardis Theme Bag Completed, Applying Logos 6/19, Shipped

Alex - 2 Bags. Black, White . Completed Shipped

1bob93r - 1 bag Faux Brown Leather. Completed,Paid, Shipped

1enrico - 1 Bag Brown faux Leather. Up Next,Paid, Bag in process 6/20/2014.Completed Shipped

LordBlako - 1 Bag Plush Charcoal. Up Next, Bag in process 6/20/2014. Completed Shipped

alecskirata - 4 BAGS. Black leather , Brown Leather, Blood Leather, Red. In progress. Shipped

thrgk - 2 BAGS. Brown faux leather, and Tan with Brown leather stripes. Completed and shipped

Wildcard - 1 Deluxe Bag- Black with White Stripes. Completed, Shipping today Shipped

Griva86 - 4 faux Brown Leather in process. Completed. shipping Monday 8/11/14.

jedicri - 1 long bag, 1 standard saber bag. In progress. Shipped 8/15/14

CynnonWyn - 3 saber bags. brown leather , black leather. in progress. Complete

97thacolyte - 2 deluxe saber bags. No logo. Completed

97thacolyte - genuine leather Xmen bag. Completed. Shipped

Daddy Solo - Swagger staff bag. O.D. Green. Completed. 12/5/2014

thrgk - Double leather bag for sidious sabers. Completed. shipped 12/14/2014

Saberconcepts - 2 Tardis bags Blue. Completed. Shipped 1/7/2015

Hake Felflame - Mass Effect bag, Charcoal. Completed, Shipped 1/10/2015

snormeepoo - 2 tan bags. letter and crest. Completed. Shipped 2/20/2015

mkadvil - black faux leather bag complete. shipped. 3/4/2015

97thacolyte - deadpool red leather bag. Completed. Shipped

Once completed I will contact you to arrange shipping.