Post by Darth Ryô on Dec 6, 2016 8:51:55 GMT -5
----- Interest thread -----
GRAFLEX GRAND MASTER CHASSIS
NerfworXlab
Collaboration at its best!
NerfworXlab is the umbrella name for our long lasting collaboration between
We continue to work hard to bring the best collector props:
------------------------------
GRAFLEX GRAND MASTER
------------------------------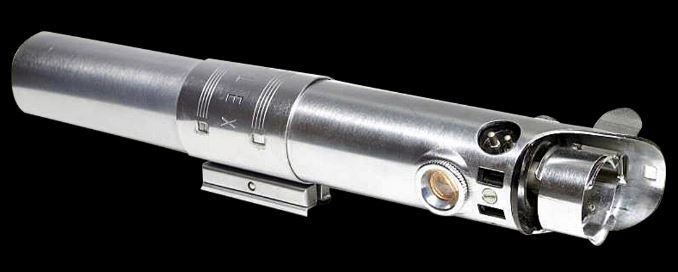 ----------------------------------------------------------------------------------------------------------
9/26 - General Update:
First of all, let's start by saying sorry for the delay in updating this thread. We have all been quite busy managing various projects in parallel. But here we are now and this is the first big update on this run, with a bit more details and a price estimate.
----------------------------------------------------------------------------------------------------------Current status:
Working on the prototype
We are working with Harp in producing the first prototype of this chassis.
No work in progress pics will be shown until we have it ready, but for those familiar with Harp's work, you know what to expect!
Run Details: Here are the details we can communicate so far-
Top of the line chassis, designed by Harp Lightsabers in collaboration with the NerfworXlab team.
It will include our accurate 2 part blade holder, and blade plug (which we've already released).
The chassis will be made from machined metal, with a mix of materials including exotic metals.
-
Top of the line soundboard and install, with
Plecter Labs Crystal Focus 9
and Micro-USB recharge / rice combo (
Demo
).
In order to optimize the chassis space, only CF9 installs will be available (no CEX) with either 7.4v or hacked 3.7v setups.
-
The Grand Master Chassis is a NerfworXlab exclusive, and not available for DIY.
Given its complexity, this run is for a complete installed chassis, only available through NerfworXlab members.
-
In order to make things easier, this run is dedicated to the complete core chassis only.
We've removed complex options to manage (like send in your hilt or buy a complete Graflex).
You are entering this run to buy a complete and functioning chassis core.
-
We suggest you to source your own replica (like TGS when available) or vintage and send it to the team for conversion.
This is just to avoid missing replica run and get the stock when it's available.
However, no issue either if you want us to find it and purchase it at current market price for you of course.
Price:
Here is a first ballpark estimate

Estimate:
$3999
As we understand that price is an important decision point, we've made our best to estimate it given our current progress, even without the full knowledge of exotic materials costs..., and hopefully this will be more or less the right one.
We also try to remain competitive, so feel free to compare this estimate to other equivalent machined and highly detailed chassis.
ETA: To be defined
We will detail the timeline as soon as we have it ready (once prototyping phase is over).
We are really thankful for your patience.
Purchasing: Interest list stage - run not yet officially open for deposit
Given this last major update on this run, we have created a confirmed interest list (while keeping the previous list below for reference).
Please confirm your interest if you really plan to enter this run, and we will keep you update once the deposit / pre-order price and run entry will officially start.
----------------------------------------------------------------------------------------------------------
Confirmed interest list:
01- Obi-Shane
02- Dart Ryô
03- jedisushi
04- darthben123
05- ms80444
06- coldvizjerei
07- cjo128
08- Brun Hogosha
09- el1
10- shadycanuck
11- dracku
12- martinsabers
13- aginor
14- keyang
15- littlebluebox27
16- saberjunkie
17- drthompson65
18- darkblade
19- Nolan Reyn
20- savadude
21- lazid
22- nemesis
23- Pfockerchief
24-
25-
26-
27-
28-
29-
30-



-----------------------------------------------------

Previous records:
6- nirraven
8- lordofthesquids
9- rey
10- 04eblue
11- Revanchist
14- biggs79
15- darthpool
16- krow555
17- nunes
18- mtizzle777
19- heman
21- kusaka
22- drartoo
23- jamielov
28- wolf69
29- avrin
30- mattbio
31- sarge930
33- nobfett
34- Kobra Fett
35- jamiemp
36- pepperpete
37- djcbooks81
38- Bruce Wayne
40- kotaro
43- daishan
46- keeperoftherancor
47- zjunlimited
48- mvtfrmchi
49- watchmaker
50- coldvizjerei
51- superserg
52- so3gonzalez
53- padawan311
54- mariokart64
56- pistolpetah1
57- livekbolo
60- mandalorelives
61- psycoscgv
63- ahsoka
64- kublaiboy
66- dyscrazia
67- darthpastrami
69- wretched
71- daisyridbae
72- treansorturi
75- boochydog
78- sunjeevp
79- padawan311
80- kanjiklub
82- korrick
83- jedimax
84-hondo
85- jcdenton
86- tgwolfwood1981
87- eldenshelton
93-visitorfromhell
94- mshaydown
95- mattkc987
96- treansorturi